najčítanejšie.
Vyčerpávajúci prehľad toho najzaujímavejšieho z modernej hororovej Európy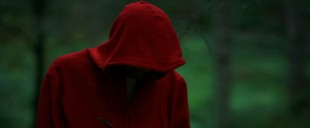 Tento článok je myslený ako menší prehľad toho najkvalitnejšieho (ale aj menej kvalitného) z európskych hororov. Sú to filmy, ktoré ste v kinách pre slovenskú distribučnú politiku určite nevideli. Článok je rozdelený do kapitol podľa krajín, pričom už z nadpisu je zrejmé, ktorý žáner je v danej krajine No 1. Dočítate sa tak nielen o jednotlivých filmoch, ale vlastne o všetkých hororových subžánroch, ktoré v súčasnosti (cca od roku 2000) v Európe "fičia".
14. 6. 2010
Halloweenska báseň o tehotnej tínedžerke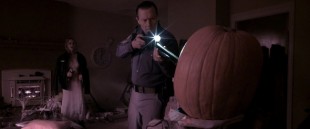 Keď na Halloween doktor oznámi sedemnásťročnému dievčaťu, že je tehotná, veľmi jej do smiechu nebude. Nepomôžu ani škriatkovské ušká, ktoré má doktor nasadené. Nepoteší ju ani, keď dievčatko v čakárni opätuje pochvalu pre jej kostým. Pretože Dora na sebe kostým nemá. Náladu jej nezdvihne ani matka. Súhlasí, že nie každá môže byť najlepšou žiačkou ročníka. Bola by ale rada, keby ho aspoň ukončila. Celkom vhodné podmienky oznámiť jej, že je tehotná, nie? Keby ešte tak čakala normálne dieťa. Lenže je Halloween, všade sa rozliezajú akísi Hellions.
12. 10. 2015
Kto vzýva satana, komu sa dovolá?
Využiť metalistickú scénu konca osemdesiatych rokov s jej pozérskym satanizmom a jej interakciu s veriacimi sa nejaví ako zlý nápad. Znie logicky, že pre komerčných duchovných bola v určitom zmysle skutočným požehnaním a mohla im pomôcť viac ako akýkoľvek iný druh propagácie. Žeby ju teda aktívne podporovali? Prečo nie. Nemôžeme povedať, že by sme cítili atmosféru doby, či strachu z vyčíňajúcich rituálnych vrahov. Predsa sme v horore, nečakajme zázraky. Škoda, že aj postavy sú celkom ploché, skôr nesympatické a nesprávajú sa príliš logicky. Máme to brať, že proste blbnú, užívajú si život či mladosť, majú jednoducho svoj životný štýl. Čakajme teda, čo zaujímavé nám tvorcovia budú chcieť ukázať.
3. 6. 2020
Horúce osemdesiate roky
Intenzitu vraždenia tínedžerov v osemdesiatych rokoch ťažko pokladať za náhodnú. Jej vysvetlení sa ponúka veľa, hneď ako prvá by mohla byť hlboká nenávisť voči nadchádzajúcej generácii, keď Američania po niečom na spôsob Battle Royale túžili už dávno pred Japoncami. Rovnako by tu ale mohlo ísť o objavenie širšej využiteľnosti mladých tiel, nie len na ich krájanie. Azda najslávnejšou sa v tomto smere stala siahodlhá séria Piatka trinásteho, narážajúca vďaka filmu Jason X až na absolútne dno. Načasovanie do letnej sezóny párenia v najvhodnejšom revíri tábora pre pubertiakov veľmi pomohlo zvýrazniť erotický element. Ten istý recept využil aj o niečo menej známy, no minimálne rovnako kvalitný horor The Burning.
22. 4. 2014
Postava dušu predala. Film ju nikdy nemal
Kde by boli horory, keby ľudia definitívne prestali veriť na všetko nadprirodzené. Samozrejme, že duchovia neexistujú vám povie asi každý. Ale keď už príde na vec, napríklad prespanie v strašidelnom dome. Ľudia sa začnú zdráhať. Práve tým pár, ktorých presvedčenie je neochvejné a nerobí im problém to ani dokázať sa teraz horory rozhodli vyhlásiť vojnu. Po Michaelovi Kingovi tu máme druhú odvážlivkyňu, v diele s názvom At the Devil's Door.
9. 6. 2015