najčítanejšie.
Emancipácia vnútornou premenou
Hlavná Myšlienka je mierne kostrbatá aj pritiahnutá za vlasy, čo sa javí ako úmysel. Anna je manželka miestneho pastora, a na úvod si vypočujeme jeho kázeň o úlohe manželky. O jej oddanosti, vernosti, skrátka ako by malo správne a dlhoročné manželstvo vyzerať. Napred je s touto rolou stotožnená, veď sú svoji už dlho a ona si byť pastorovou manželkou zvykla. Film je ale o jej premene. Ako si uvedomí, kým bola, aké boli jej životné sny a plány a ako všetky zmaril jej usporiadaný až nudný život. Premena ale neprichádza len tak sama, či vďaka banalite, akou je stretnutie bývalého. Stane sa niečo osudové, vďaka čomu sa bude musieť zamyslieť, či chce naďalej byť len Jakob's Wife.
7. 5. 2021
Nadštandardné služby pre spokojnosť rodičov
Napred si hovoríte, že kde je ten horor. Objaví sa jeden celkom trápny duch, chlapček si zakrýva zrkadlo, zjavne má trocha bujnú fantáziu. Uvidíme aj dôvod, veď číta samé komiksy a pozerá samé horory. Má doma dusno lebo je mierne pošahaný, sú s ním samé problémy. Začne sa dostavovať nepríjemný pocit z pozerania filmu, no nie tak klasicky hororový, maximálne sa tak náznakom blížime exploitationu. Povaha filmu sa celkom nezmení, ani keď ho konečne pošlú na prevýchovu. To príde, až keď divák objaví, čo je to za Boarding School.
12. 11. 2018
Vyčerpávajúci prehľad toho najzaujímavejšieho z modernej hororovej Európy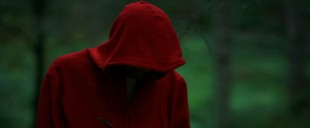 Tento článok je myslený ako menší prehľad toho najkvalitnejšieho (ale aj menej kvalitného) z európskych hororov. Sú to filmy, ktoré ste v kinách pre slovenskú distribučnú politiku určite nevideli. Článok je rozdelený do kapitol podľa krajín, pričom už z nadpisu je zrejmé, ktorý žáner je v danej krajine No 1. Dočítate sa tak nielen o jednotlivých filmoch, ale vlastne o všetkých hororových subžánroch, ktoré v súčasnosti (cca od roku 2000) v Európe "fičia".
14. 6. 2010
Keď chcete dieťa skutočne vystrašiť
Film je od začiatku viditeľne ruský, a pokiaľ nemáte voči ruským filmom vyslovenú averziu, javí sa to ako veľká výhoda. Iná je celková estetika, postavy, ich správanie, aj zasadenie diela. Najdôležitejšie ale je, nakoľko iný je samotný príbeh a jeho spracovanie. Vo svojej podstate je zápletka podobná ako z akéhokoľvek mysteriózneho hororu, vyzerá ale celkom inak. Je to ruská rozprávka, ktorá sa v ničom nesnaží podobať svojim západným náprotivkom, ide vlastnou cestou, ešte aj názov má ruský. Jaga. Košmar ťomnogo lesa.
16. 7. 2020
Pre zvláštny zážitok
Štruktúra je od začiatku mätúca, striedajú sa nám tu dve dejové línie. Odlíšiť sa našťastie dajú, v jednej je hlavný hrdina zarastený. Aj tak im nie je celkom ľahké rozumieť, hlavne tá zasadená skôr v čase toho veľa nevysvetľuje. Ani nevieme, z akej krajiny to hlavný hrdina do Anglicka prišiel. Len že tam bola vojna a nech sa aj snažil, nevyhol sa činom, na ktoré nie je hrdý. Teraz je predovšetkým tulák, nikto, človek bez vlastného života a budúcnosti. Prežíva, čaká čo s ním bude a už sa ani nesnaží nájsť niečo na spôsob šťastia. To ani nenájde, len sa jeho osud zásadne zmení, ako zistí, už dávno mu to mohol nájsť predmet, ktorý našiel, akýsi Amulet.
13. 4. 2021