najčítanejšie.
Nadštandardné služby pre spokojnosť rodičov
Napred si hovoríte, že kde je ten horor. Objaví sa jeden celkom trápny duch, chlapček si zakrýva zrkadlo, zjavne má trocha bujnú fantáziu. Uvidíme aj dôvod, veď číta samé komiksy a pozerá samé horory. Má doma dusno lebo je mierne pošahaný, sú s ním samé problémy. Začne sa dostavovať nepríjemný pocit z pozerania filmu, no nie tak klasicky hororový, maximálne sa tak náznakom blížime exploitationu. Povaha filmu sa celkom nezmení, ani keď ho konečne pošlú na prevýchovu. To príde, až keď divák objaví, čo je to za Boarding School.
12. 11. 2018
Vyčerpávajúci prehľad toho najzaujímavejšieho z modernej hororovej Európy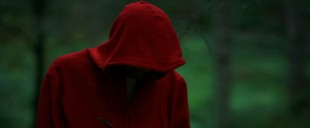 Tento článok je myslený ako menší prehľad toho najkvalitnejšieho (ale aj menej kvalitného) z európskych hororov. Sú to filmy, ktoré ste v kinách pre slovenskú distribučnú politiku určite nevideli. Článok je rozdelený do kapitol podľa krajín, pričom už z nadpisu je zrejmé, ktorý žáner je v danej krajine No 1. Dočítate sa tak nielen o jednotlivých filmoch, ale vlastne o všetkých hororových subžánroch, ktoré v súčasnosti (cca od roku 2000) v Európe "fičia".
14. 6. 2010
Komplikovaná snaha o upgrade
Zložitejší je už spôsob rozprávania a dve časové línie. Nech vidíme, že mierime k menej primitívnej a priamočiarej zábave. Napred tu máme otca, ktorý v zapadákove hľadá dcéru s kamarátmi. Potom vidíme samotnú partičku mladých, ako v mestečku vyvolajú pobúrenie svojou modernosťou a napriek varovaniam sa v lese nedržia chodníka. Tu ale príde rozdiel. Nezačnú ich masakrovať mutanti. Dostanú sa do stretov s podivnou komunitou, ľudskou, čo ale vzájomnú komunikáciu tiež neuľahčuje. Napred ide o podivné incidenty v lese, tie by mohli pôsobiť ako nedorozumenia, keby neboli natoľko násilné. Potom sa dostanú priamo do vnútra komunity, a nejde o nijako menej príjemný či bolestivý zážitok.
25. 2. 2021
Menej farieb, viac tanca
Pôvodná Suspiria si svoj kultový status získala vďaka funkčnej zmesi prvkov pochádzajúcich z inej doby. Naivný scenár, úchvatný vizuál plný sýtych farieb, gotické prostredie, úžasná hudba, no a réžia Daria Argenta v najlepšej forme. Jej atmosféra patrí medzi najosobitejšie zážitky v dejinách hororu, snaha zopakovať ju sa preto spočiatku javila značne šialene. Náznaky dôvery vzbudila až serióznosť, s akou tvorcovia k novému projektu pristupovali. Obsadenie Tildy Swinton, hudba od Thoma Yorkea. Režisér Luca Guadagnino bol vraj možnosťou film nakrútiť posadnutý už od svojich 14 rokov, a hoci ide o jeho prvý horor, ako artový režisér svoje kvality už dokázal. Pochopiteľne tak nejako musí potom vyzerať aj výsledok.
15. 3. 2019
Medveď je živý, ale nezáživný
Jeden spoločný výlet dvoch znesvárených bratov a ich partneriek na rodinnú párty prekazí nehoda. Ich auto zíde z cesty a štvorica uviazne v lese, kde stretnú medvediu samicu, zrejme podobne vyplašenú ako oni sami. Jeden z bratov však stratí nervy a medvedicu chladnokrvne zastrelí. Pár nábojov si však mal nechať. Prichádza totiž samec, ktorý je lačný nie ani tak po ľudskom mäse, ako skôr po pomste.
20. 9. 2010