najčítanejšie.
Hriech zbytočnosti
Veriť v šťastný koniec filmov ako Would You Rather je asi ako reagovať na emaily dcér nigérijských obchodníkov alebo ponuky na zväčšenie penisu. Rozdiel je akurát v žánri, keďže dostať sa do spárov Reader´s Digest vás predsa len asi nebude stáť život, prípadne dôstojnosť. Takmer rovnaký námet k nám teraz prichádza v americkom remaku filmu 13: hra smrti, pod názvom 13 Sins.

15. 5. 2014
Naozaj ešte odpornejšie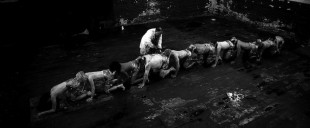 Prvý diel
série
The Human Centipede
si vzhľadom na svoj rozpočet vyslúžil skutočne nebývalú pozornosť. Jeho trailer na youtube videlo viac ako 15 miliónov divákov a okrem kultúrnych narážok si vyslúžil paródie ako v porne, tak aj v kreslenom seriáli
Mestečko Southpark
. Už pri release prvého projektu režisér a scenárista Tom Six ohlásil, že to nie je posledný film, ktorý chce o tejto zvrhlosti nakrútiť. A v ďalšom dieli nemala rásť len stonožka, ale aj úroveň odpornosti, ktorý film dosiahne. Teraz máme možnosť sa presvedčiť, že svoj sľub myslel s plnou vážnosťou.
13. 4. 2012
Počíta sa znásilnenie mŕtvoly za stratu panenstva?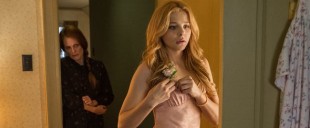 Asi ešte nikto nedokázal, že remake môže filmu niečo zásadné pridať. Dôkazov ako ho môže pokaziť existuje naopak nespočetne. Znova musíme uvažovať či v nás nádej vidieť film zmodernizovaný a v kine prebije hnev zo znesväcovania klasiky. Ďalšou vykopanou mŕtvolou je Carrie, v predošlej verzii vynikajúco obsadená a zrežírovaná. Šikana je nepochybne večná, takže príbeh by určite mal vedieť čo to ponúknuť aj dnešnému divákovi. Ako bude film fungovať ako celok a koľko prvkov sa v ňom podarí uchrániť sme boli určite všetci zvedaví.

18. 10. 2013
Trestanie metakultúrou
Zároveň trendy, a súčasne si z trendov uťahuje. Zároveň film krútiaci sa okolo tínedžrov a pritom ich vykresľuje ako bandu čudákov, ktorí sa naháňajú za hlúposťami. A tak trochu horor, ale vlastne si z hororov len robí žarty. Dielo režiséra prevažne komerčných hudobných videoklipov, ktoré chrlí jednu kultúrnu narážku za druhou, nič nemyslí vážne ale zároveň nechce byť paródiou sa volá Detention.
12. 12. 2012
Film, pri ktorom sa odchádza z kina
Od 70. rokov sa toho síce v horore veľa zmenilo, no ak ide o hixploitation, pravidlá ostali rovnaké. Mestské dievča vs. "vidláci" je konflikt, ktorý stále funguje, tak ako stále funguje nevraživosť medzi mestami a dedinami.  
13. 2. 2011