najčítanejšie.
Vyčerpávajúci prehľad toho najzaujímavejšieho z modernej hororovej Európy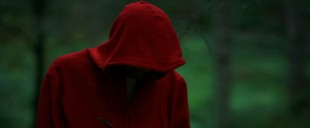 Tento článok je myslený ako menší prehľad toho najkvalitnejšieho (ale aj menej kvalitného) z európskych hororov. Sú to filmy, ktoré ste v kinách pre slovenskú distribučnú politiku určite nevideli. Článok je rozdelený do kapitol podľa krajín, pričom už z nadpisu je zrejmé, ktorý žáner je v danej krajine No 1. Dočítate sa tak nielen o jednotlivých filmoch, ale vlastne o všetkých hororových subžánroch, ktoré v súčasnosti (cca od roku 2000) v Európe "fičia".
14. 6. 2010
Umelcov poháňajú drogy. A krv.
Umelci vraj tvoria pod vplyvom drog. Niektorí tento mýtus popierajú, a tvrdia, že bez jasnej hlavy to nejde. Iní ho aktívne podporujú. Vraj inak sa tvoriť ani nedá. V tomto prípade je to celkom zjavné, umelkyni to ide dokonca najlepšie v stave, keď si ani nepamätá, že niečo tvorila. Vlastne ani nevie, čo presne za ten čas užila. Čo okrem maľovania robila. Ani čo za maľbu to nakoniec má byť. Ako keby ani netvorila ona sama, len slúžila nejakým zvláštnym silám a procesom. A stavu, ktorý sa dá opísať ako Bliss.
5. 11. 2019
Úvod do biblickej Apokalypsy
Mali sme tu
The Den
a
Unfriended
nakrútene cez webkameru počítača. Pomaly už ale aj tak prestáva byť potrebné vysvetľovať, ako záznam určitej etapy ľudského života vznikol. Aj tak nás stále niekto špehuje, existuje ešte vôbec možnosť zomrieť sám a v pokoji? Čoskoro budeme mať v hlavách čipy, tie zaznamenajú nielen čo vidíme, ale aj čo počujeme a cítime. Namiesto pozerania hororu nám ho budú premietať priamo do hlavy. Vtedy až pocítime, čo to je smrteľná hrôza. Kým čakáme na podobné technológie, máme tu ešte horor nakrútený cez inteligentné okuliare, teda len kúsok od mozgu. Volá sa podľa miesta, kde sa odohráva,
Jeruzalem
.
12. 4. 2016
Malý dôvod na návštevu kina
Zrejme je to lacné. Možno toto si hovoríte, keď trocha sledujete hororový žáner (nielen to úbohé percento z neho, ktorá sa dostane do našej distribúcie) a zaskočil vás nedávny boom tzv. "found footage" filmov, t. j. hororov, ktoré sa svojou formou tvária ako posledné zábery pred smrťou.
3. 3. 2012
Mohlo sa to skončiť aj horšie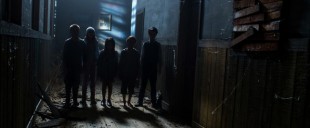 Prvý Sinister
sme sledovali z pohľadu obete. Pátrajúcej, no nevedomej, obete, s ktorou sa priam zahrávali. Stála proti nej neporaziteľná sila fungujúca neomylne a jej vstup do niekoho života mohol mať len jeden koniec. Pochopili sme jej logiku, ako svoje obete nachádza a čo sa im zhruba stane. Čo za silu to je a ako pracuje na dokonaní svojho diela nám ale nenaznačili. Pohľad z druhej strany, či skôr niekde zo stredu nám sprostredkuje až
Sinister 2
.
21. 9. 2015