najčítanejšie.
Vyčerpávajúci prehľad toho najzaujímavejšieho z modernej hororovej Európy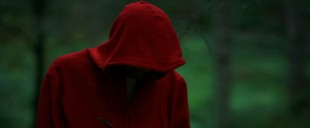 Tento článok je myslený ako menší prehľad toho najkvalitnejšieho (ale aj menej kvalitného) z európskych hororov. Sú to filmy, ktoré ste v kinách pre slovenskú distribučnú politiku určite nevideli. Článok je rozdelený do kapitol podľa krajín, pričom už z nadpisu je zrejmé, ktorý žáner je v danej krajine No 1. Dočítate sa tak nielen o jednotlivých filmoch, ale vlastne o všetkých hororových subžánroch, ktoré v súčasnosti (cca od roku 2000) v Európe "fičia".
14. 6. 2010
Priveľa politiky zabije každú myšlienku
Podľa Sigmunda Freuda je existencia božieho prikázania "Nezabiješ" dôkazom, že všetci pochádzame z rodu vrahov. Túžbu vraždiť mali v krvi a niet dôvod predpokladať, že sa stratila. Niekde hlboko v nás stále je, preto si tento zákaz musíme dokola pripomínať a byť pod dozorom zákonov. Už dvakrát sme videli čo sa stane, keď podľa novej tradície v USA prestanú na jednu noc zákony platiť. Tentokrát sa tradičná noc smrti stane súčasťou predvolebného boja, preto Očista: Volebná noc.
15. 7. 2016
Znova to isté inak, nudnejšie
Frankenstein je krásny príklad postavy, ktorá svojou slávou ďaleko presiahla dielo, z ktorého pochádza. Totiž Frankenstein pôvodne nebola ani oživená príšera, ale jej stvoriteľ. To je už samozrejme všetkým jedno, rovnako ako presný obsah diela, v ktorom sa prvýkrát objavil. Aj to, že ho napísala Mary Shelley a malo ísť o prvý román žánra sci fi aj jeden z prvých hororov. Tá Mary Shelley, o ktorej sa nikdy nemôže nespomenúť, že bola manželkou Percy Bysshe Shelleyho. A znova sa hlavne v našich končinách všetci len tvária, že vedia, o koho ide. Čo už, z Frankensteina je kultúrne dedičstvo s kolektívnym vlastníctvom, takže každý si s ním už robí, čo chce. Teraz nám napríklad film opisuje neznámy príbeh jeho tvorcu a tak sa aj volá, Victor Frankenstein.
4. 12. 2015
Kúzelníci prinášajú len rozčarovanie
Čarodejnícke a mysteriózne horory s prvkom rozprávkovosti sú pre mňa výnimočne príťažlivé a vždy vo mne vzbudzujú veľké nádeje. Ich zasadenie do moderného sveta ich robí ešte zaujímavejšími - ako to bolo v krásne poetickom, ale menej hororovom
Nech vojde ten pravý
(o ňom a ďalších európskych hororoch tu.
18. 3. 2011
Kvalitne spravený mysteriózny gýč
Výtvory M. Night Shyamalana ako Znamenia, Šiesty zmysel alebo Vyvolený si určite pamätáte, na prelome tisícročia si získali značnú popularitu. Pán tvorca po nich nezostal úplne nečinný, a mnoho fanúšikov nedočkavo sledovalo jeho ďalšiu tvorbu. Tej sa ale príliš nedarilo, priaznivcov skôr strácal, ako by naberal ďalších. Pred necelými dvoma rokmi konečne priniesol pomerne decentný horor s názvom The Visit, po ktorom prichádza ďalší, uvedený aj do našich kín pod názvom Rozpoltený.
1. 2. 2017