najčítanejšie.
Búrka v pohári krvi alebo samotná krv ešte dobrý horor nerobí
Romero po francúzsky? Ak ste rovnako naivný ako ja, pravdepodobne vám to už napadlo, keď som spomenul Noc živých mŕtvol. Akákoľvek podobnosť s Romerom však končí pri námete. La Horde vyzerá amatérsky (vo všetkých možných smeroch) vedľa ktoréhokoľvek Romerovho filmu, je jedno, či si na porovnanie zoberieme staručkú Noc alebo najnovšie Survival of the Dead.
17. 6. 2010
Vyčerpávajúci prehľad toho najzaujímavejšieho z modernej hororovej Európy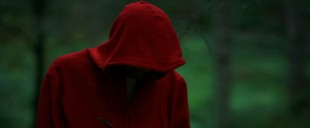 Tento článok je myslený ako menší prehľad toho najkvalitnejšieho (ale aj menej kvalitného) z európskych hororov. Sú to filmy, ktoré ste v kinách pre slovenskú distribučnú politiku určite nevideli. Článok je rozdelený do kapitol podľa krajín, pričom už z nadpisu je zrejmé, ktorý žáner je v danej krajine No 1. Dočítate sa tak nielen o jednotlivých filmoch, ale vlastne o všetkých hororových subžánroch, ktoré v súčasnosti (cca od roku 2000) v Európe "fičia".
14. 6. 2010
Predkus lásku nezastaví
Zápletka teda nie je nijak zložitá a jej priebeh je predvídateľný. Spracovanie však až takmer prekvapivo dobre funguje. Nízkorozpočtový štýl pôsobí bezprostredne, pritom vôbec nie amatérsky alebo rušivo. Aj keď gore, ktoré tu vidíme, je explicitnosťou značne podpriemerné, jeho vnímanie a prežívanie pôsobí pomerne silne. Odľahlé lesy a auto, ktoré čoskoro stratí svoju funkciu, pôsobia stiesňujúco a beznádejne. Hrozba je z tých slabších, ide predsa len o jednu ženu, len o niečo silnejšiu. Navyše, bojí sa ohňa. Kvalitná je však práca s touto hrozbou a s postavami vo vzťahu k nej.
6. 10. 2011
Ďalší nenáročný žralok
Do postáv sa napriek všetkému dá celkom vžiť, hlavne do tej s odporom k adrenalínovému zážitku. Svojím spôsobom ide o pomerne uveriteľný scenár, pôsobí akurát trochu príliš komplikovane. Dievčatá sú v klietke na dne mora, žraloky nad nimi pôsobia skôr ako konštanta znemožňujúca ich návrat, než ako bezprostredné a napínavé ohrozenie. Film s nimi do značnej miery aj tak pracuje, nesnaží sa nimi prekvapiť. Napína skôr tým, ako ich dlho neukazuje. Postavy dostáva do situácií, kedy by sme útok žraloka čakali každú chvíľu aj bez toho, aby nám túto hrozbu pripomínal. Vďaka tomu sa zaobíde aj bez lacných ľakačiek, stačí mu len žmýkať prostredie. To je celé ako jedna veľká ľakačka.
27. 7. 2017
S Chuckym bola aspoň sranda
Dramatik českého pôvodu Tom Stoppard vo svojej hre Rosencrantz a Guildenstern sú mŕtvi rozvinul príbeh dvoch vedľajších postáv Shakespearovho Hamleta. Nesú anglickému kráľovi tajný odkaz, že má Hamleta popraviť. Ten ich ale prekabáti, správu vymení a namiesto neho popravia ich dvoch. Účelom hry bolo ukázať, aký absurdný bol vývoj situácie z ich pohľadu, keď nemali potuchy čo sa okolo nich deje a ako sa k vlastnej poprave dopracovali. Dôvody spraviť pre vedľajšie postavy samostatné dielo teda môžu byť aj zaujímavé. Na rozdiel od popularity postavy v diváckych anketách a možnosti na úspechu hlavného diela ďalej ryžovať. Pamätáte si na bábiku krátko spomenutú vo V zajatí démonov, menom Annabelle?
9. 10. 2014