najčítanejšie.
Nadštandardné služby pre spokojnosť rodičov
Napred si hovoríte, že kde je ten horor. Objaví sa jeden celkom trápny duch, chlapček si zakrýva zrkadlo, zjavne má trocha bujnú fantáziu. Uvidíme aj dôvod, veď číta samé komiksy a pozerá samé horory. Má doma dusno lebo je mierne pošahaný, sú s ním samé problémy. Začne sa dostavovať nepríjemný pocit z pozerania filmu, no nie tak klasicky hororový, maximálne sa tak náznakom blížime exploitationu. Povaha filmu sa celkom nezmení, ani keď ho konečne pošlú na prevýchovu. To príde, až keď divák objaví, čo je to za Boarding School.
12. 11. 2018
Vyčerpávajúci prehľad toho najzaujímavejšieho z modernej hororovej Európy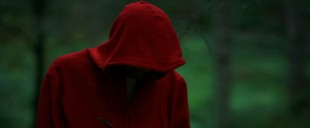 Tento článok je myslený ako menší prehľad toho najkvalitnejšieho (ale aj menej kvalitného) z európskych hororov. Sú to filmy, ktoré ste v kinách pre slovenskú distribučnú politiku určite nevideli. Článok je rozdelený do kapitol podľa krajín, pričom už z nadpisu je zrejmé, ktorý žáner je v danej krajine No 1. Dočítate sa tak nielen o jednotlivých filmoch, ale vlastne o všetkých hororových subžánroch, ktoré v súčasnosti (cca od roku 2000) v Európe "fičia".
14. 6. 2010
Zatvoriť oči a načúvať spevu
Princíp slepoty ako záchrany, či nevyhnutnosti zakrývať si oči určite má svoje čaro, aj nad možnosti jeho metaforického využitia. Horšie je to s jeho praktickou realizáciou. Čo presne ľudia nesmú vidieť nám nikdy neukážu. Ako inak, veď by sme umreli. Ono sa to ale aj drží skôr na úrovni metafory, v zmysle že si treba zakrývať oči. Presné a zmysluplné pravidlá ako sa to šíri už by sme ale hľadali márne, a ťažko sa nám verí v možnosť ich existencie. Podobne zložité je to aj s tým, ako postavy prežívajú. Samozrejme sa nám, vidiacim, môže zrak javiť nevyhnutnejším než akým v skutočnosti je. Napríklad streľbu na cieľ si bez neho ale ťažko predstaviť, vôbec snahu sa o niečo podobné pokúšať. Film nám ako zložité predostrie viacero činností. Ako šoférovanie, či plavba po rieke alebo beh po lese, medzi stromami a konármi. Často sa ale skôr ako zložité javia v skutočnosti jednoducho nemožné.
5. 2. 2019
Poeticky, minimalisticky, s príšerou
Ak ste náhodou videli The Battery, asi si na túto zombícku road movie aj po rokoch pamätáte. Nezávislý film nakrútený v minimalistickom štýle podobnom Jimovi Jarmuschovi sa v niečom odlišoval od prakticky čohokoľvek, čo sa za posledné roky vyskytlo na hororovej scéne. Režisér a scenárista Jeremy Gardner sa teraz vracia po ôsmych rokoch s autorským počinom. Opäť s celkom zanedbateľným rozpočtom, ktorý mu opäť nijako nechýba. Namiesto zombíkov príde iné monštrum, postapokalyptický svet nahradí svet ľúbostných trápení, vo filme s názvom After Midnight.
17. 3. 2020
Gotický predok exploitov
Legendárny organový virtuóz pán Phibes nemá rád doktorov. Konkrétne desať doktorov, ktorí nedokázali zachrániť život jeho ženy. Keď sa o jej nešťastí dozvedel, sám v rýchlosti nabúral a podľa všetkého uhorel v aute. Neuhorel, zostal len zmrzačený a nemý. V spolupráci s tajomnou kráskou teraz doktorov obchádza. Jedného po druhom, a uvaľuje na nich postupne rany tak, ako postihli egyptského faraóna. Prvé boli vraj včely, ešte pred začiatkom stopáže filmu. Nasledujú netopiere. Vypustia ich doktorovi do spálne, a ráno ho už slúžka nájde dohryzeného na smrť. Ako vraždy postupujú, polícia si pomaly začne jednotlivé obete spájať. Nech je aj páchateľ mŕtvy, polícia ho vystopuje. Práve, keď sa dostal k poslednej rane, smrti prvorodeného.
21. 5. 2014