najčítanejšie.
Vyčerpávajúci prehľad toho najzaujímavejšieho z modernej hororovej Európy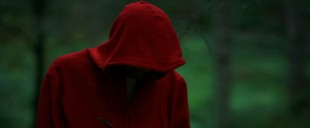 Tento článok je myslený ako menší prehľad toho najkvalitnejšieho (ale aj menej kvalitného) z európskych hororov. Sú to filmy, ktoré ste v kinách pre slovenskú distribučnú politiku určite nevideli. Článok je rozdelený do kapitol podľa krajín, pričom už z nadpisu je zrejmé, ktorý žáner je v danej krajine No 1. Dočítate sa tak nielen o jednotlivých filmoch, ale vlastne o všetkých hororových subžánroch, ktoré v súčasnosti (cca od roku 2000) v Európe "fičia".
14. 6. 2010
Jaskyňa a málo viac
Intro s turistami dosť výrazne naznačí tón celého filmu, ktorému to s napínavými scénami skrátka príliš nejde. Hlavne, aby sme vedeli, že niečo sa tu diať bude, že v jaskyni niečo číha a ešte nech máme dojem, že ide o niečo tajomné. Škoda, že úvod je natoľko nepresvedčivý a kostrbatý. Kiežby ale takým bol len ten. Skupinka priateľov neočarí ale nemá ani zásadné nedostatky. Tie začnú prichádzať skôr postupne, keď sa zložité situácie vytvárajú tam, kde ničomu príliš nepomôžu. Určite nie dielu ako hororu, ako keby chceli len akokoľvek spestriť pozeranie.
23. 9. 2020
Nový Fantomas bude horor! Na čo sa môžeme ešte tešit v blízkej budúcnosti?
Nový Fantomas bude horor! Na čo sa môžeme ešte tešiť v blízkej budúcnosti?
30. 7. 2010
Dá sa vyhrať boj proti nelegálnemu sťahovaniu?
Nedávno som čítal informáciu, že za pirátske sťahovanie hudby, filmov a softvéru vznikla majiteľom práv škoda cca 10 miliárd eur len za rok 2008. Do roku 2015 by, vraj, médiá a zábavný priemysel utrpeli stratu 240 miliárd eur, čo by viedlo k úbytku približne 1,2 milióna pracovných miest!
26. 8. 2010
Tiež vám tvrdili, že starí rodičia nehryzú?
Pri starých ľuďoch si už človek nemôže byť ničím istý. Nemusia ani mať
Alzheimera
, všetci ich aj tak berú, že sú skrátka iní. Patrí sa k nim byť tolerantní, oni určitú mieru tolerancie očakávajú, vyžadujú a niekedy si ju zjavne aj užívajú. Priam si z vás s jej pomocou robia žarty. Napríklad ak by pätnásťročné dievča požiadala matka, aby celé vliezlo do rúry, nech ju poriadne vyčistí, asi by mu ani neprišla na rozum možnosť vážnosti tejto požiadavky. To isté spraví babka a dievča ochotne do rúry vlezie. Dokonca sa tam nechá zatvoriť, aby babička zatiaľ zvonka umyla dvierka. U svojich starých rodičov je prvýkrát ako
The Visit
.
20. 10. 2015