najčítanejšie.
Vyčerpávajúci prehľad toho najzaujímavejšieho z modernej hororovej Európy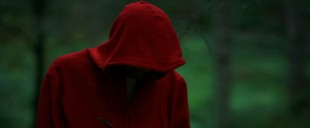 Tento článok je myslený ako menší prehľad toho najkvalitnejšieho (ale aj menej kvalitného) z európskych hororov. Sú to filmy, ktoré ste v kinách pre slovenskú distribučnú politiku určite nevideli. Článok je rozdelený do kapitol podľa krajín, pričom už z nadpisu je zrejmé, ktorý žáner je v danej krajine No 1. Dočítate sa tak nielen o jednotlivých filmoch, ale vlastne o všetkých hororových subžánroch, ktoré v súčasnosti (cca od roku 2000) v Európe "fičia".
14. 6. 2010
Penis ako zbraň a aligátor miesto nôh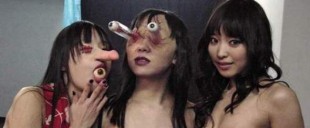 Napadlo vám niekedy, čo by sa stalo, keby polícia prešla do súkromných rúk? Režisér Yoshihiro Nishimura sa nad tým zamyslel za vás a vytvoril budúcnosť Tokia, v ktorej sa tokijská polícia volá Tokyo Police Corporation. Ako názov filmu
Tokyo Gore Police
napovedá, nebude to budúcnosť práve ružová, ale skôr krvavočervená.
13. 1. 2011
Naozaj ešte odpornejšie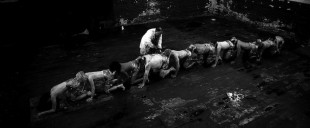 Prvý diel
série
The Human Centipede
si vzhľadom na svoj rozpočet vyslúžil skutočne nebývalú pozornosť. Jeho trailer na youtube videlo viac ako 15 miliónov divákov a okrem kultúrnych narážok si vyslúžil paródie ako v porne, tak aj v kreslenom seriáli
Mestečko Southpark
. Už pri release prvého projektu režisér a scenárista Tom Six ohlásil, že to nie je posledný film, ktorý chce o tejto zvrhlosti nakrútiť. A v ďalšom dieli nemala rásť len stonožka, ale aj úroveň odpornosti, ktorý film dosiahne. Teraz máme možnosť sa presvedčiť, že svoj sľub myslel s plnou vážnosťou.
13. 4. 2012
Milovať pôdu viac ako ženu
Nejde len o jednoduchý rozdiel v záujmoch manželov. Ona chce žiť v meste, on miluje farmu. Problém je v tom, že pre neho je farma a čo najväčší pozemok jedinou životnou hodnotou. Či jednou z dvoch, tou druhou je syn, o ktorého ho chce manželka tiež obrať. Musí vyrastať s matkou, preto by tiež mal ísť do mesta. Svojím spôsobom ide o obmedzený fanatizmus, kde človek na niečom chorobne lipne, a ničomu nedovolí ho o to obrať. Pritom ani sám nevie, prečo mu na tom tak záleží. Šťastie ani bohatstvo mu pôda veru neprinesie. Tak bol skrátka vychovaný, také boli hodnoty ľudí v roku 1922.
25. 1. 2018
Nabudúce Lochnesska?
Yeti v Himalájach a Bigfoot v Amerike by údajne mohli byť poslední jedinci niektorého z živočíšnych druhov pokladaných za vyhynuté. Napríklad Gigantopitheca alebo Paranthropa. Prvý síce asi nemohol chodiť po zadných a jeho pozostatky v Amerike nikdy nenašli, a druhý sa vyskytoval len v Afrike. Pre ich existenciu nejestvujú ani žiadne vedecké dôkazy. Skôr množstvo dôvodov, prečo by mala byť takmer nemožná. No ľuďom zjavne nestačí množstvo jedincov podobných skôr opiciam ako človeku ktorých zápach cítiť na hony. Treba hľadať vedecké vysvetlenia, pretože je jasné, že niečo také Exists.
22. 1. 2015