najčítanejšie recenzie.
Žite v reáli, internet bez vás prežije
Ak sa v niektorých filmoch snažia všetko, čo má byť sexi, zobraziť nejakým spôsobom nablýskane a aspoň náznakom príťažlivo, tu to tak celkom nie je. Hlavná hrdinka pôsobí ako to, čím je- chudera, ktorá sa všemožne snaží získať si pozornosť internetových divákov kvôli peniazom a postaveniu v nezmyselnom rebríčku. Ten pre ňu zjavne niečo znamená a vníma ho ako prejav skutočnej spoločenskej prestíže, keďže dobré postavenie pre ňu spraví menej zahanbujúcim priznanie vlastnej mame. Nie, nie je to len taká instagramová hviezdička. Táto sa živí nahotou a tým najúbohejším predvádzaním sa pred Cam.
18. 6. 2019
Do Švajčiarska chodia bohatí odpočívať. Večne odpočívať.
Generálny riaditeľ veľkej finančnej firmy, pán Pembroke, odišiel na liečenie do švajčiarskych álp. Kolegom poslal zvláštny list. Celkom podľa neho zanevrel na honbu za peniazmi a svoj dovtedajší spôsob života. Asi sa zbláznil. Firma ho potrebuje, musí podpísať jej predaj. A možno by na neho rovno mohli hodiť aj nejaké nezrovnalosti. Pošlú po neho jedného z ich pôvodcov, mladučkého Lockharta. Tomu sa po troche snahy podarí k Pembrokeovi dostať a čiastočne ho aj na návrat presvedčiť. Veci sa ale skomplikujú, Lockhart si pri nehode zlomí nohu a musí v sanatóriu zostať. Na tom mieste je niečo zvláštne. Obyvatelia blízkej dediny ho nenávidia, o bývalom majiteľovi kolujú čudné historky. Vraj chcel mať dieťa s vlastnou sestrou a v ich svadobnú noc ju dedinčania prišli zlynčovať. Všetci pacienti sa správajú zvláštne, nikto nechce odísť. Prečo aj, vysvetľuje Hannah, jediná mladučká pacientka. Neprekážajú jej ani všadeprítomné úhory?
23. 2. 2017
Penis ako zbraň a aligátor miesto nôh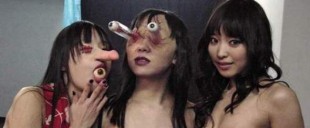 Napadlo vám niekedy, čo by sa stalo, keby polícia prešla do súkromných rúk? Režisér Yoshihiro Nishimura sa nad tým zamyslel za vás a vytvoril budúcnosť Tokia, v ktorej sa tokijská polícia volá Tokyo Police Corporation. Ako názov filmu
Tokyo Gore Police
napovedá, nebude to budúcnosť práve ružová, ale skôr krvavočervená.
13. 1. 2011
Konečne dobrý horor so zvieraťom
Ľudia najviac platia za to, čoho sa najviac boja. Aspoň o tom je presvedčený John, ktorý sa rozhodne prerobiť svoj dom na safari ranč. Hlavnou atrakciou má byť tiger, ktorého pre jeho divú povahu nechceli ani v cirkuse.
18. 10. 2010
Radi sa pozeráte, ako sa iní zabávajú?
Niečom svojím spôsobom podobné už tu bolo. The Houses October Built mal podobu fiktívneho dokumentu, ktorého geniálny nápad bol, že bude strašidelný, ak zobrazí strašenie iných ľudí. Tento nápad sa niekomu zdal natoľko úžasný, že ho nemohol nezrecyklovať. Z poučne a bádavo ladenej formy ale samozrejme treba zásadne smerovať k masovej zábave. Takže už nejde o skupinku zvedavcov, ktorí skúmajú oddaných a zapálených remeselníkov hororovej zábavy. Iritujúca partia tínedžerov sa vyberie na gýčovitý festival s názvom Hell Fest: Park hrôzy.
9. 10. 2018