najčítanejšie recenzie.
Spam patrí dok koša, nie do kina
Ak túto správu nerozošlete do 24 hodín štyrom ďalším ľuďom, tak po a) vám vypadajú všetky zuby, po b) znásilní vás váš najlepší kamarát alebo po c) príde si po vás vrah a zomriete brutálnou smrťou. Áno, cé je správne!
23. 3. 2011
Hororová extáza pre klubového diváka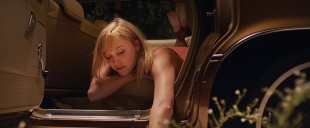 Predstavte si, že niekto za vami kráča. Nebeží, neskáče, nelieta ani nepoužíva dopravné prostriedky. Len bez prestania kráča smerom k vám, nech ste kdekoľvek. Môžete mu utiecť, môžete sa autom, vlakom, lietadlom presunúť kdekoľvek chcete. On za vami bude aj tak kráčať, nech k vám dorazí za hodinu, deň či rok. Znova mu utečiete a on bude za vami znova kráčať dňom aj nocou. Skôr či neskôr si to každý musí priznať. Neutečieš, pretože ako hovorí anglický názov, It Follows.
14. 5. 2015
Kto sa postará o veselé detstvo, ak nie klaun?
Je zvláštne, že dielo sa zatiaľ dočkalo len jedného televízneho spracovania, keďže mnoho jeho častí pozná skoro každý z viacerých odkazov a paródií. Román patrí medzi Kingove dlhšie, odohráva sa v dvoch časových obdobiach, pričom film nám tentokrát prináša to prvé. V ňom vidíme koniec školského roka v meste Derry, kde mizne šesťkrát viac dospelých ako je americký priemer, pri deťoch je to ešte horšie. Vidíme skupinku chlapcov a jedno dievča, z ktorých každého niečo straší. Jednému pred pol rokom zmizol mladší braček. Vidia, ako ich ich strach požiera. Ako sa stáva skutočným, a ako sa ľudia v ich okolí strácajú. Pátrajú po jeho pôvode, skúmajú zvláštne udalosti vo svojom meste. Nemá zmysel skrývať sa, vyčkávať. Tak ako sa musia postaviť miestnym grázlom, musia sa priamo postaviť aj samotnému zlu. Spoločne, a zomknutí.
12. 9. 2017
Horúce osemdesiate roky
Intenzitu vraždenia tínedžerov v osemdesiatych rokoch ťažko pokladať za náhodnú. Jej vysvetlení sa ponúka veľa, hneď ako prvá by mohla byť hlboká nenávisť voči nadchádzajúcej generácii, keď Američania po niečom na spôsob Battle Royale túžili už dávno pred Japoncami. Rovnako by tu ale mohlo ísť o objavenie širšej využiteľnosti mladých tiel, nie len na ich krájanie. Azda najslávnejšou sa v tomto smere stala siahodlhá séria Piatka trinásteho, narážajúca vďaka filmu Jason X až na absolútne dno. Načasovanie do letnej sezóny párenia v najvhodnejšom revíri tábora pre pubertiakov veľmi pomohlo zvýrazniť erotický element. Ten istý recept využil aj o niečo menej známy, no minimálne rovnako kvalitný horor The Burning.
22. 4. 2014
Medveď je živý, ale nezáživný
Jeden spoločný výlet dvoch znesvárených bratov a ich partneriek na rodinnú párty prekazí nehoda. Ich auto zíde z cesty a štvorica uviazne v lese, kde stretnú medvediu samicu, zrejme podobne vyplašenú ako oni sami. Jeden z bratov však stratí nervy a medvedicu chladnokrvne zastrelí. Pár nábojov si však mal nechať. Prichádza totiž samec, ktorý je lačný nie ani tak po ľudskom mäse, ako skôr po pomste.
20. 9. 2010