najčítanejšie recenzie.
Zase tá politika...
Pôvodná Očista bola jednoduchá, obmedzená rozpočtom, stála len na prezentácii svojho nápadu. Druhá ho naplno rozvinula, a aj keď už možno začala dejovo trocha vymýšľať, v zásade si udržala jednoduchosť, ktorá jej prospievala. Hlavne z perspektívy, ktorú vytvoril diel tretí. Ten odmietal robiť to isté len inak, využiť deň očisty ako zasadenie a ponúknuť len nové postavy a dej. Nie, radšej sa spolitizoval, rovno sa presunul do vôbec posledného očistného dňa. Chceli fanúšikovia skutočne vidieť diskusie, intrigy, a boj za zrušenie Očisty? Autori si zjavne myslia, že chceli. Štvrtý diel je totiž tiež politický, ukazuje nám, ako vyzerala Prvá Očista.
12. 7. 2018
Medveď je živý, ale nezáživný
Jeden spoločný výlet dvoch znesvárených bratov a ich partneriek na rodinnú párty prekazí nehoda. Ich auto zíde z cesty a štvorica uviazne v lese, kde stretnú medvediu samicu, zrejme podobne vyplašenú ako oni sami. Jeden z bratov však stratí nervy a medvedicu chladnokrvne zastrelí. Pár nábojov si však mal nechať. Prichádza totiž samec, ktorý je lačný nie ani tak po ľudskom mäse, ako skôr po pomste.
20. 9. 2010
Nákaza z béčkových vôd pokračuje
John túži po svojej spolužiačke Cassie. Jeho kamarát Alex túži po "školskej štetke" Liz. Zatiaľ čo Alexovi sa jeho túžba sčasti aj naplní, John musí čeliť Cassienmu agresívnemu frajerovi, ktorý je, ako sa zdá, zároveň najväčší idiot na celej škole. A všetci túžia po tom, aby mali s kým ísť na maturitný ples. Ak vám to pripomína stredoškolskú červenú knižnicu, nie ste ďaleko od pravdy. Na "maturiťáku" budú totiž čoskoro striekať prúdy červenej krvi. A to všetko pre nákazu spôsobujúcu rýchly rozklad tela, ktorej je plný, mimochodom tiež červený, punč.
17. 8. 2010
Odetá v klišé, tvár zahalená gýčom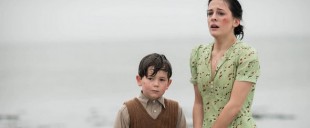 Žene v čiernom zobrali syna, preto ona teraz vykonáva svoju pomstu na cudzích deťoch. Núti ich páchať samovraždy. To sme sa aspoň dozvedeli v prvom diele. Hlavný hrdina so ženou bojoval, a vďaka modernej technike- autu, s pomocou ktorého vytiahol telo jej syna z močiara, chcel upokojiť jej hnev. Čo iné mohla chcieť, ako aby sa jeho pozostatkom dostalo skutočného pohrebu, a oni dvaja sa mohli v smrti spojiť? Nuž, ako sme videli na konci filmu, úplne spokojná asi nebola. Preto sa o pár rokov vracia znova, teraz ako Žena v čiernom 2: Anjel smrti.
11. 2. 2015
Medvedia paródia na Čeľuste
Ak by ste si vzali skutočné hororové klasiky známe nielen priaznivcom žánra. V koľkých z nich je v úlohe zla obyčajné zviera? Napadnú vám
Čeľuste
a možno
Vtáci
. To je všetko. Ak by ste začali hĺbať, prídete možno na
Cuja
či
Arachnofóbiu
, tie už ale majú ďaleko od klasík ako aj širšej hororovej špičky. So zvieratami to skrátka akosi nejde. Vyvraždili sme ich, zahnali do hĺbok lesov a priemerný človek vída tie čo i len trochu hrozivé v lepšom prípade za mrežami, zdegenerované v ZOO. O vražedných levoch a hrochoch počúvame len príbehy z ďalekej Afriky, strach zo žralokov sa vníma ako spoločenské faux pas. Výnimkou by mohli zostať len úmyselne uchovávané divočiny v Amerike, tam sa nedávno odohrával celkom podarený
Backcountry
. Medvede teraz uvidíme v ďalšom horore s názvom
Into the Grizzly Maze
.
6. 11. 2015