najčítanejšie recenzie.
Romero, ako ho, našťastie, nepoznáme
Keď sa v jednom malom pennsylvánskom mestečku zrúti armádne lietadlo, je zarobené na problémy. Prevážalo totiž nebezpečnú biologickú zbraň, vírus Trixie, ktorý sa začne rýchlo šíriť medzi nič netušiace obyvateľstvo. Kontakt človeka s vírusom môže mať iba dva scenáre: smrť alebo šialenstvo spojené s agresiou. (Keďže sa film volá The Crazies, nie je ťažké domyslieť si, ktorá alternatíva bude populárnejšia.)
13. 5. 2010
Čo už mohla vychovať taká matka?
V určitom veku je nenávidieť svojich rodičov normálne, priam súčasť zdravého vývoja. Ani v skorom detstve sa ale určite nedá povedať, že by deti k mame a otcovi pociťovali len lásku. Rodičia sú pre nich predstaviteľmi sveta, v ktorom sú ešte stratené. Dávajú im príkazy a zákazy, karhajú ich a dieťa často nie je ani schopné pochopiť, prečo. Z toho dôvodu nie je možné prežiť detstvo bez zažitia strachu z vlastných rodičov, a bez občasného pocitu chvíľkového odcudzenia. To zväčša prejde, uvedomíme si, že predsa sú to naši rodičia. Ale čo ak nie, čo ak máme dôvod pochybovať, či to naši rodičia skutočne sú? Napríklad kvôli plastickej operácii, ako vo filme Ich seh, ich seh.
6. 10. 2015
Medveď je živý, ale nezáživný
Jeden spoločný výlet dvoch znesvárených bratov a ich partneriek na rodinnú párty prekazí nehoda. Ich auto zíde z cesty a štvorica uviazne v lese, kde stretnú medvediu samicu, zrejme podobne vyplašenú ako oni sami. Jeden z bratov však stratí nervy a medvedicu chladnokrvne zastrelí. Pár nábojov si však mal nechať. Prichádza totiž samec, ktorý je lačný nie ani tak po ľudskom mäse, ako skôr po pomste.
20. 9. 2010
Počíta sa znásilnenie mŕtvoly za stratu panenstva?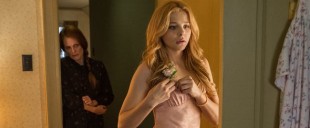 Asi ešte nikto nedokázal, že remake môže filmu niečo zásadné pridať. Dôkazov ako ho môže pokaziť existuje naopak nespočetne. Znova musíme uvažovať či v nás nádej vidieť film zmodernizovaný a v kine prebije hnev zo znesväcovania klasiky. Ďalšou vykopanou mŕtvolou je Carrie, v predošlej verzii vynikajúco obsadená a zrežírovaná. Šikana je nepochybne večná, takže príbeh by určite mal vedieť čo to ponúknuť aj dnešnému divákovi. Ako bude film fungovať ako celok a koľko prvkov sa v ňom podarí uchrániť sme boli určite všetci zvedaví.

18. 10. 2013
Toľko ste toho pod maskou nečakali
Práve žánrové miešanie krutého exploitationu s thrillerom, ktorému by zodpovedala dejová stránka, je síce sympatické, no nakoniec sa ukáže ako nezvládnuté. Scenár sa snaží byť ambiciózny, prináša veľa deja a nechce len žmýkať známe postavy a prostredie. V tom prípade by ale potreboval na budovanie atmosféry svoje vlastné prostriedky, a tie mu chýbajú. Hlavnými sa stávajú utečenci z liečebne, krutí prehnane až za hranicu uveriteľnosti. Všetko sa odohráva akosi nepochopiteľne, bez zmyslu, s jediným zrozumiteľným účelom, ktorým je čo najviac násilia. Aj keď film má svoje kvality, nedokáže diváka skutočne vtiahnuť, zaujať niečím jasným a intenzívnym. Nakoniec príde samotná pointa, pri ktorej si dáme film do spojitosti s celou sériou. A možno by sme radšej zabudli, čo sa nám to snažil nahovoriť.
16. 11. 2017